Perhaps you've had a boss or supervisor say to you at one time or another, "my door is always open." As you know, an "Open Door Policy" refers to a communication policy in which a manager or supervisor leaves their office door "open" in order to encourage openness and transparency with employees. As the term implies, employees are encouraged to stop by whenever they feel the need to meet and ask questions, discuss suggestions, and address problems or concerns with management.
The Open Door Policy's principles of openness and transparency are expressed in other areas of our culture as well. Places of business sometimes have comment cards that say "we welcome your comments," news media outlets say "we want to hear from you," and politicians are quick tell their constituents that "we welcome your phone calls." I do sometimes wonder if businesses always welcome our comments, news outlets really want to hear from us, and politicians really want to receive our angry letters or calls.
Truth is, as much as we might say we have an Open Door Policy, a manager's door can't always be open, a business can't always welcome your comments, politicians can't always welcome our calls. Office doors have to be locked, businesses close, and politicians tire of endless complaints about water taxes! And it's a "tax," not a "fee." Can I get an "Amen!?"  All kidding aside, sometimes doors must be closed. It would be pretty silly of us to interrupt a closed door conversation to accuse our boss of not adhering to their open door policy. Thankfully, we understand that the expression "my door is always open" is meant to be taken figuratively, not always literally. We recognize the deeper meaning of transparency, openness, and mutual respect seeking to be conveyed.
Speaking of figurative things we sometimes take literally, this morning I am speaking once again on the book of Revelation. For the last four weeks, we have been going through the book of Revelation, taking a different angle against the common viewpoint that it's about an angry God dolling out fire and brimstone on the unrepentant masses. I've talked about how the writer of Revelation was trying to reveal the evil nature of the Roman empire. I've talked about how the book imagines a vast diversity of people receiving God's salvation, not a narrow few. I've tried to explain why, though the words and images found in the book seems scary and confusing to us today, in the time the book of Revelation was written, it was understood as coming from the genre of apocalyptic literature and recognized as style of writing utilizing literary devices, styles, and motifs.
Once again to illustrate this point, I have four different readings, and I'd like to see if we can correctly identify which one comes from the book of Revelation.
And when he has brought low everything that is in the world, and has sat down in peace for ever on the throne of his kingdom, then shall joy be revealed, and the rest made manifest. And then shall healing descend as dew, and disease shall disappear; and anxiety and anguish and lamentation shall pass from men, and gladness spread through all the earth. And never again shall anyone die before his time, nor shall any adversity suddenly fall.[1]
And from there I went towards the east of the ends of heaven, and there I saw the three eastern gates of heaven open, and above them smaller gates. Through each of those smaller gates the stars of heaven pass and go towards the blessed, and I will always bless the Lord of Glory who has made great and glorious wonders that he might show the greatness of his work to his angels and to the souls of men, that they might praise his work, and that all his creatures might see the work of his power and praise the great work of his hands and bless him for ever.[2]
And he carried me away in the Spirit to a mountain great and high, and showed me the Holy City, Jerusalem, coming down out of heaven from God. It shone with the glory of God, and its brilliance was like that of a very precious jewel, like a jasper, clear as crystal. It had a great, high wall with twelve gates, and with twelve angels at the gates. On the gates were written the names of the twelve tribes of Israel. There were three gates on the east, three on the north, three on the south and three on the west. The wall of the city had twelve foundations, and on them were the names of the twelve apostles of the Lamb.[3]
And he said to me: Follow me again, and I will take you and show you the places of the righteous. And I followed the angel and he lifted me up to the third heaven and he set me at the door of a gate. And I looked at it and saw that it was a golden gate and that there were two golden pillars before it and two golden tables above the pillars full of letters. And again the angel turned to me and said: Blessed are you if you enter in by these gates, because only those are allowed to enter who have goodness and purity of body.[4]
The Biblical scholars among us correctly identified the third reading as coming from the book of Revelation 21. The first came from the "Syriac Apocalypse of Baruch" written around 70-80 CE, the second from "The Book of Watchers" written around 160 CE, and the fourth from the "The Apocalypse of Paul" written around 225 CE.
I hope I'm not confusing you too much in reading these different writings. My point is to demonstrate that while the book of Revelation seems wild and fantastical to our ears today, in the time it was written, original readers would have recognized it as belonging to the genre of apocalyptic literature, much as we recognize movies such as Star Wars, Star Trek, or Interstellar as belonging to the genre of science fiction movies. Imagine if, thousands of years from now after humanity has died off, aliens came to earth and found Star Trek movies and assumed them to be documentaries. They'd be hunting around for remnants of the star ship Enterprise to no avail! Too often, we confuse the book of Revelation to be a forecast of the end of the world, when it's not about prediction, it's about proclamation.[5] John was trying to explain why Christians living in the first century should resist aligning too closely with the ways of the Roman Empire and instead follow the ways of God. John was proclaiming that the ways of Rome led to destruction but the ways of God led to life. John was trying to illustrate God's desire for the future.
As I mentioned last week, we do well not to literalize the images and descriptions we read in the book. John's writing "is not a reporter's description of what he 'actually saw.' It is a literary composition as the means of expressing… God's goal for the world."[6] So rather than getting hung up on words or images, we do better to imagine what deeper meaning John was trying to reveal. In these last chapters, John describes a lake that burns with fire and sulfur, "the second death." The new Jerusalem is also described, said to be containing "the river of the water of life," the "tree of life with its twelve kind of fruit," tree leaves that "are for the healing of the nations," and gates that "will never be shut." Taken at face, these descriptions are mind-boggling and even a bit scary.
Based on my understanding of Scripture and the insights biblical scholars, I don't think these descriptions are meant to be taken literally. What I'd like to propose, is that like the expression "Open Door Policy," Revelation is trying to explain something about God philosophically, not practically. Much as we understand that the idiom, "If you play with fire, you're going to get burned" tells us not simply to literally avoid playing with fire, but to also avoid dangerous situations, John utilized language to tell his first century readers to avoid following the ways which would lead inevitably lead to their own suffering and pain.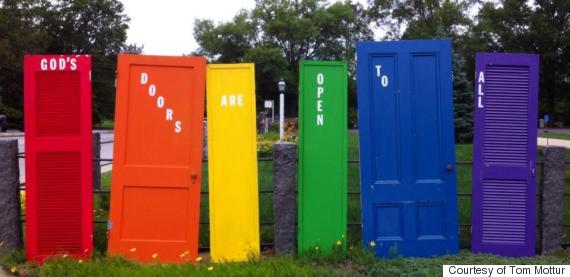 But too often we stop there, leaving people to languish in their hurt and pain now and forever. Those who understand this text as God prescribing eternal suffering on wrongdoers somehow miss that the doors of the city never shut and that the same nations and kings who were earlier described by John as opposing the ways of God are described as present in the new Jerusalem.[7]  John doesn't say that anyone who has ever been guilty of wrongdoing is unwelcome, John was trying to explain that God is waiting with open arms to welcome those who choose the way of life.[8]
Here I'm reminded of the story of the Prodigal Son. We know the story well.
Jesus continued: "There was a man who had two sons.  The younger one said to his father, 'Father, give me my share of the estate.' So he divided his property between them.
"Not long after that, the younger son got together all he had, set off for a distant country and there squandered his wealth in wild living. After he had spent everything, there was a severe famine in that whole country, and he began to be in need. So he went and hired himself out to a citizen of that country, who sent him to his fields to feed pigs. He longed to fill his stomach with the pods that the pigs were eating, but no one gave him anything.
"When he came to his senses, he said, 'How many of my father's hired servants have food to spare, and here I am starving to death! I will set out and go back to my father and say to him: Father, I have sinned against heaven and against you. I am no longer worthy to be called your son; make me like one of your hired servants.' So he got up and went to his father.
"But while he was still a long way off, his father saw him and was filled with compassion for him; he ran to his son, threw his arms around him and kissed him.
"The son said to him, 'Father, I have sinned against heaven and against you. I am no longer worthy to be called your son.'
"But the father said to his servants, 'Quick! Bring the best robe and put it on him. Put a ring on his finger and sandals on his feet.  Bring the fattened calf and kill it. Let's have a feast and celebrate. For this son of mine was dead and is alive again; he was lost and is found.' So they began to celebrate.
"Meanwhile, the older son was in the field. When he came near the house, he heard music and dancing. So he called one of the servants and asked him what was going on. 'Your brother has come,' he replied, 'and your father has killed the fattened calf because he has him back safe and sound.'
"The older brother became angry and refused to go in. So his father went out and pleaded with him. But he answered his father, 'Look! All these years I've been slaving for you and never disobeyed your orders. Yet you never gave me even a young goat so I could celebrate with my friends. But when this son of yours who has squandered your property with prostitutes comes home, you kill the fattened calf for him!'
"'My son,' the father said, 'you are always with me, and everything I have is yours. But we had to celebrate and be glad, because this brother of yours was dead and is alive again; he was lost and is found.'"
Let's remember that the story of the prodigal son is told in the Bible alongside two other stories, the parable of the Lost Sheep, and the Parable of the Lost Coin. Finding people who were lost, welcoming home people who had been astray is fundamental part of who God is and what God is about. This son had chosen a path that led to his own pain and suffering, and when he came to his senses and wanted to come back home, his father's door was open, he was welcomed home. His father did not leave him to endlessly suffer in the consequences of his poor choices. The father didn't leave his son to wallow in the mud with the pigs. Why then, would God leave us to wallow in the misery of our own mistakes.
Just as this father's door was always open, so also is God's. No matter what we've done or how far we've fallen, God is always ready to welcome us back. God doesn't leave us to endlessly suffer in our own wrongdoing, God doesn't leave us to endlessly suffer in our own wrongdoing, God doesn't banish us forever to feel the pain of our mistakes. Whether talking about the past, present, or future, the principle of which John speaks of still holds true. No matter what we've done, no matter where we've been, God's door is always open, now and forever.[9]
[1] "Syriac Apocalypse of Baruch" in Apocalyptic Literature: A Reader, ed. Mitchell G. Reddish (Nashville: Abingdon Press, 1990), 134.
[2] "The Book of Watchers" in Apocalyptic Literature: A Reader, ed. Mitchell G. Reddish (Nashville: Abingdon Press, 1990), 162.
[3] Revelation 21:10-14 NIV
[4] "The Apocalypse of Paul", (in Apocalyptic Literature: A Reader, ed. Mitchell G. Reddish (Nashville: Abingdon Press, 1990), 303.
[5] Wendell W. Frerichs, "God's Song of Revelation: From Easter to Pentecost in the Apocalypse," in Word & World 6/2 (1986), 216.
[6] M. Eugene Boring, Revelation: Interpretation, A Bible Commentary for Teaching and Preaching (Louisville: Westminster John Knox, 1989), 215.
[7] M. Eugene Boring, Revelation: Interpretation, A Bible Commentary for Teaching and Preaching (Louisville: Westminster John Knox, 1989), 221.
[8] Leonard L. Thompson, Revelation: Abingdon New Testament Commentaries (Nashville: Abingdon Press, 1998), 186.
[9] M. Eugene Boring, Revelation: Interpretation, A Bible Commentary for Teaching and Preaching (Louisville: Westminster John Knox, 1989), 223.
(Visited 128 times, 1 visits today)